Wagner Manual Powder coating guns
WAGNER 
SPRINT 
PEM-X1 POWDER UNIT
The WagnerPrima Sprint powder coating gun has a highly dynamic remote control system allowing the operator to switch between pre-select programs.  The EPG-Sprint control unit has 50 pre-defined programs, 4 of these can be selected directly using buttons 5-8 and the remaining 46 by pressing button 25.  All programs can be adapted and stored by the user to suit individual requirements.  Colour changing has also been made easier and more effective by the air pulsation cleaning function. 
Technical Data for Prima Sprint Box feed Unit

• Quality product made in Switzerland

• Cheaper running costs

• 2 Year extended manufacturers warranty on Wagner high voltage cascade

• Choose from 50 individually set recipes

• Air pulsation self cleaning function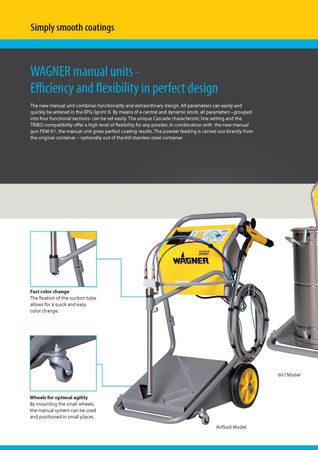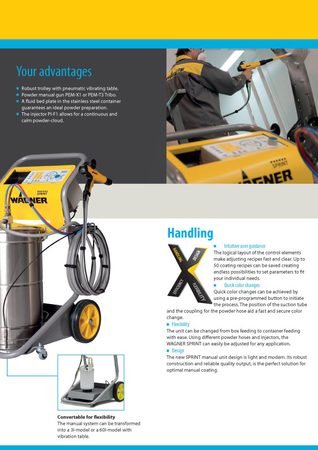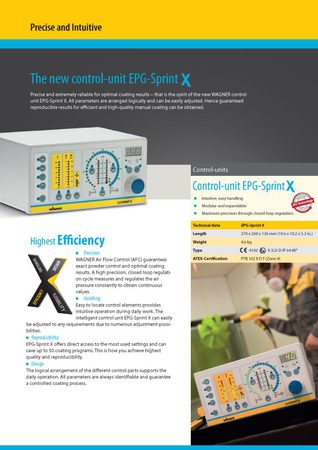 WAGNER POWDER CUP LABORATORY SET PEM-X1 CG
The powder cup laborator set is a useful, handy, flexible, yet high-performing gun for powder coating small components and is perfectly suitable for small quantity production.
Due to the precise Wagner regulation technology and the gun intergrated dosing system, small amounts of powder can be applied, while still obtaining incredible results.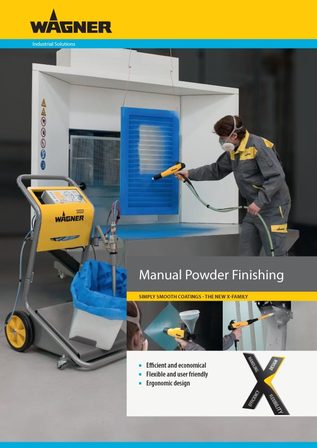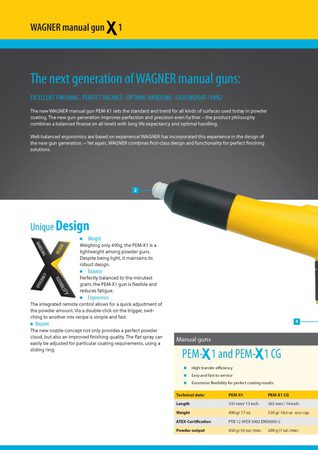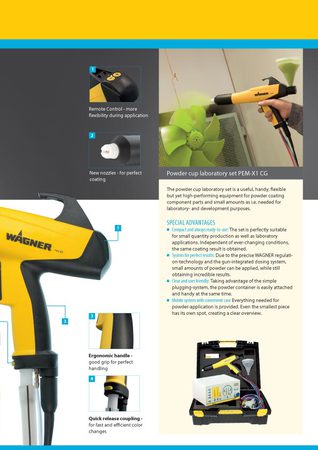 To see videos on Wagner Prima Sprint Powder coating gun or quick colour change booth click link below
© 2010 Kiwicote Ltd, P O Box 31-836, Milford, 0741, Auckland
Tel:(09) 449-0380,  Email: kiwicote@gmail.com